Installation
The following step-by-step instructions are intended as a guide only. In general, the same preparation procedures used with traditional surfacing methods apply to cellular systems such as Rite Pave. It is assumed here that a sub base is to be used beneath the paving system.
STEP 1.

MARK AND EXCAVATE
Mark out and excavate the area to be reinforced to the following depths based on application. Remember to add the depth of the module (40mm) to the below figures if the finished result is to remain flush with the surrounding area.
| | |
| --- | --- |
| Project | Typical Depth |
| Patios, Garden Paths | 75-100mm |
| Driveways, Public Footpaths | 100-150mm |
| Heavy Uses | 150-225mm |
| Highways | 150mm + |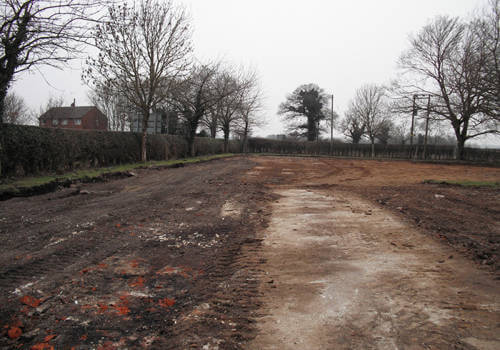 STEP 2.

INSTALL SUB BASE
With the full area excavated you can now proceed to install the sub base material. After doing so, compact the area to be as level as possible using a vibrating plate, or for larger areas a vibrating roller.
An optional weed suppressant membrane can be used on top of the sub base prior to the next step. This prevents weed growth and provides the grass seed with a better chance of survival but allows for natural drainage of rain water to the ground beneath.
STEP 3.

APPLY SHARPSAND/SOIL LAYER
A thin 40mm layer of sharpsand/soil mix can now be applied to the surface of the sub base.
This is to level out any imperfections or hollows within the surface of the sub base, and if the area is to be grassed over it provides an ideal environment for grass root survival and growth.
STEP 4.

LAY PAVING MODULES
Once the whole area is completely level, you can proceed to interlock and lay the Rite Pave modules. Any that need cutting should be measured and cut prior to installation. They should be cut in such a way to leave complete cells along the outer area edge where possible.
With the whole area completely laid and positioned correctly, it can then be lightly compacted ensuring they remain flat and level.
STEP 5.

FILL AREA WITH MEDIUM
The area can now be back filled with the medium to be used.
If using gravel, we recommend 10mm or less gravel as this allows better filling of the chambers.
If the area is to be grassed, we would recommend using a 70/30 rootzone mixture which is essentially a mixture of quality topsoil and sharpsand. This prevents the hard compaction seen with topsoil alone which can limit grass growth. Initially the cells should be filled to approximately 10mm below the top surface of the module, as this will protect the young seedlings during early establishment. The whole area can then be seeded and watered in.
INSTALLATION FINISHED
Rite Pave installation is now complete. If using grass, wait for the seedlings to grow and see the results.